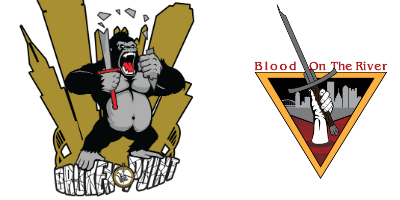 Broken Plow Western Martial Arts proudly presents Blood on the River & Broken Point 2019, our 4th annual Labor Day celebration.
When: August 29th 12pm – September 2nd 3pm
Cost: FREE!* ($5 donation for camping, $20 for Broken Point League Event)
Tournaments
Blood on the River – Tournament of Fate
Mixed weapons tournament, details TBA!
Broken Point Longpoint League Tournament
This Longpoint League tournament will be divided into Premiere and Open tiers by event staff.
You may not be a judge or director for the tier that you are fighting in. Judges and directors will be paid for their services.
Ober The Hill
You must be 35 or older at the time of the event to participate. Join us in this quest for glory.
Ringen*
Availability of a ringen tournament is currently under review. Please stay tuned, but do sign up on the form if interested.
Classes/Events
When signing up, please indicate your interest in these events/classes. If enough people are interested in an event, we may hold a tournament for that event.
Mass Melee
Axe Throwing
Javelin Throwing
Archery
Archery Tag
HEMA Strong Fitness Seminar
No actual working out, just an open-ended seminar that is closer to a conversation and a Q&A!
Plus more to be announced!
After paying, you will be redirected to a sign-up form.